Offering a Unique Program Designed to Fulfill Every Child's Dream of Being a Ninja!
Ninja Trix revolutionizes fitness for kids in Ankeny. This program is built on strong martial arts techniques, gymnastics and tumbling skills, and parkour! Each class incorporates these disciplines in a fun and engaging way that keeps our Ninjas motivated to achieve their goals.
Just fill out the short form on your screen to get your child started today!
Does your child think they are the next Ninja Warrior?
Maybe they are!
Kids love it because they get to run, jump, climb, kick, spin and basically be kids! Parents love it because their kids get to burn off energy and exercise while having fun, and as a bonus learn tenets such as self-discipline, confidence, and respect. In our Ninja Trix program your ninja will learn Martial Arts, Gymnastics and Parkour, giving them a great foundation for all sports!
WHAT IS Ninja Trix?
Ninja Trix is the newest sport discipline encompassing Martial Arts, Gymnastics and Parkour skills! Our program was developed by lifelong martial artists, gymnastics coaches and parkour enthusiasts to create a totally new, totally engaging, totally crazy fun sport. Your kids may just be the next Ninja Warrior.
PARKOUR Trickin': Parkour is the sport of moving rapidly through an area while negotiating obstacles by running, jumping and climbing. Our Ninjas will learn parkour techniques to navigate through obstacle courses designed to keep them challenged, smiling and wanting to step up to their next Ninja Level!
GYMNASTIC Flippin': Every Ninja needs gymnastics skills! Our Ninjas will progress through the Ninja Levels while learning tumbling skills to increase awareness, physical strength, fitness levels, balance, and coordination skills. Ninjas will progress through these skills while gaining new found confidence and having a great time.
MARTIAL ARTS Kickin': Our Ninjas will begin their party with foundational martial arts skills taught in a fun, safe, and challenging environment. The martial arts skills taught will lay the foundation for a well-rounded Ninja, while building the confidence to take on the next Ninja Challenge!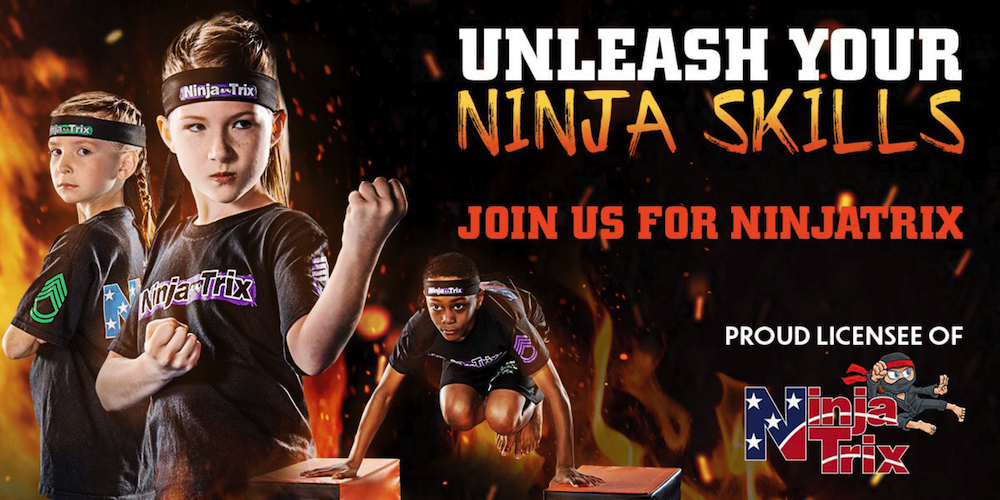 Tiny Ninja Trix Fitness and Your 3.5 - to 5-Year-Old (our newest group)
Tiny Ninja Trix is designed for the 3.5 - 5 year olds to add the very basic skills necessary to burn off energy for this age group, while providing fitness, fun and exercise.
By the time kids are 3 to 5 years old, their physical skills, like running, jumping, and kicking, have come a long way. Now they'll continue to refine these skills and build on them to learn more complex ones. Take advantage of your child's natural tendency to be active. Regular physical activity promotes healthy growth and development and learning new skills builds confidence.
Fitness for Preschoolers - Physical activity guidelines recommend that preschoolers:
are physically active throughout the day
move and engage in both active play and structured (adult-led) physical activity
do activities such as jumping, hopping, and tumbling to strengthen bones
Preschoolers should participate in a variety of fun and challenging physical activities that help build skills and coordination, but aren't beyond their abilities. Preschoolers should be active about 3 hours a day, including light, moderate, and vigorous activities. Kids this age are learning to hop, skip, and jump forward, and are eager to show off how they can balance on one foot, catch a ball, or do a somersault.
TINY NINJA TRIX & LIL' NINJA TRIX - 3.5 - 5 Years old & 5 - 6 years old: Our Lil' Ninjas Classes are for ages 5 & 6 years old! They are designed to entertain, excite and motivate our Lil's while learning foundational skills in all three sports, Martial Arts, Gymnastics and Obstacle Course Training. Your Ninja will fine tune motor skills with our challenging, fun classes while developing that positive Ninja Trait of "CAN DO"
JR. NINJAS 7 - 12 years old: Our Jr. Ninja Classes are designed for the 7 to 12 year old Ninja Warrior! Our Jr. Ninjas learn all the foundational skills that our Lil's learn to create a well-rounded athlete. All the while expanding their skill set to include all the tricks and tumbling skills that will keep our Jr. Ninjas looking for that next challenge!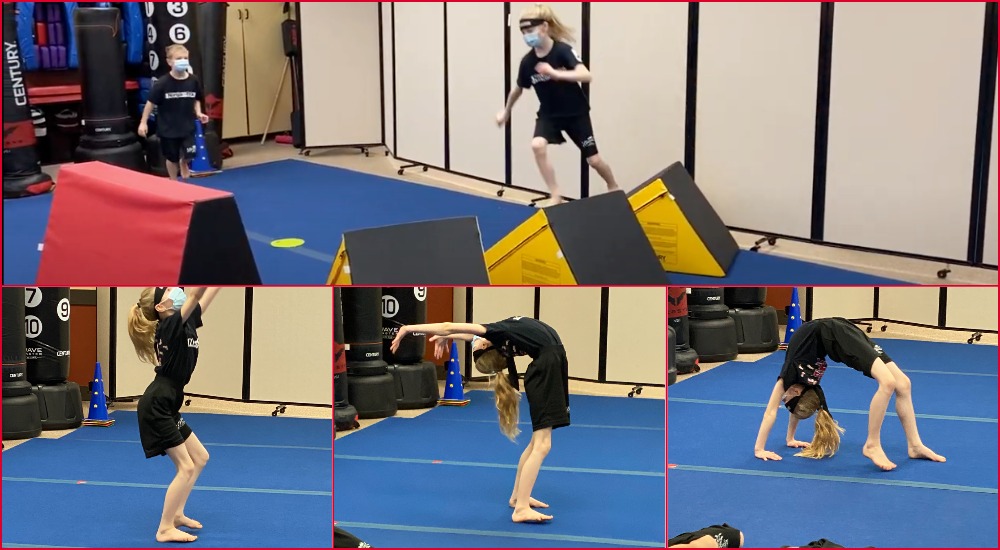 Help Your Child Get Excited About Fitness!
As any athlete will tell you, repetition is key in developing substantial skill. Therefore, our Ninjas are constantly being challenged on enhanced techniques while consistently exercising the base fundamentals of each skill.
Our expert staff has found the perfect balance between safety and fun for our curriculum, so your child can have a good time and you don't have to worry!
Every class is jam-packed with customized equipment and obstacles that focus on:
Perfecting balance
Strength & conditioning
Self-confidence
and always having fun!
Sign Up Today For Ninja Trix at Academy Of Martial Arts!
For more information on the most exciting fitness program for kids, simply fill out the form on your screen. We can't wait to see you and your future Ninja at Academy Of Martial Arts!